Each control panel is thoroughly checked out at our facility per our quality assurance procedure and checklist. Optional customer witness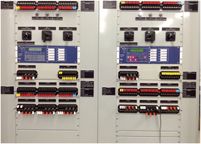 tests and verification are available upon request. Testing may include; full functional and power on tests, point to point continuity tests, phase angle and phasing tests, I/O forcing, circuit simulation testing, dielectric and Hi-pot testing. Rigorous quality assurance checks include; visual verification of layout, parts labeling and parts identification, torque verification, crimp verification, anchorage, wire awg and wire labeling.
Design verification to fabrication; material thickness, paint and finish compliance and complete cleaning prior to shipping preparation.   Equipment is carefully packaged or crated to ensure it arrives ready for use. Panels are typically shipped via air-ride carrier or other client approved method of transportation.